Cabinet Installation Process
Installing new cabinetry in your kitchen or bathroom is a big job and requires expertise and experience. We commend your ambition to do the installation yourself but we encourage you to leave your cabinet install to the people who do it 24/7/365.
Kitchen and Bathroom cabinet installers are a specialized trained type of contractor who will install your kitchen or bathroom cabinetry with incredible detail and proficiency. Merit Kitchens works with a select group of trusted and proven cabinetry installation professionals to ensure your cabinets are installed perfectly.
6 Steps When Installing Cabinetry
Step 1: Once all your kitchen or bathroom cabinetry has been delivered, it will need to be unpacked and inspected. This step is essential for ensuring that you have everything you ordered and that every cabinet is in good condition. During this step you should check to be sure that all your drawers, hardware, and trim have arrived, are correct, and are undamaged.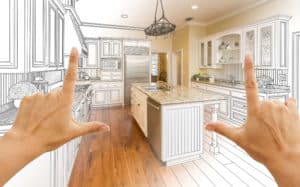 Step 2: Your installation team will begin by locating and measuring from the highest point on your floor. This is arguably the most important step of the process. By locating the highest point on your floor, you are establishing a reference point for the leveling of all your kitchen or bathroom cabinetry.
Step 3: Measuring and marking are an important step in the cabinetry installation process. The old expression goes, measure twice, cut (or in this case hang) once!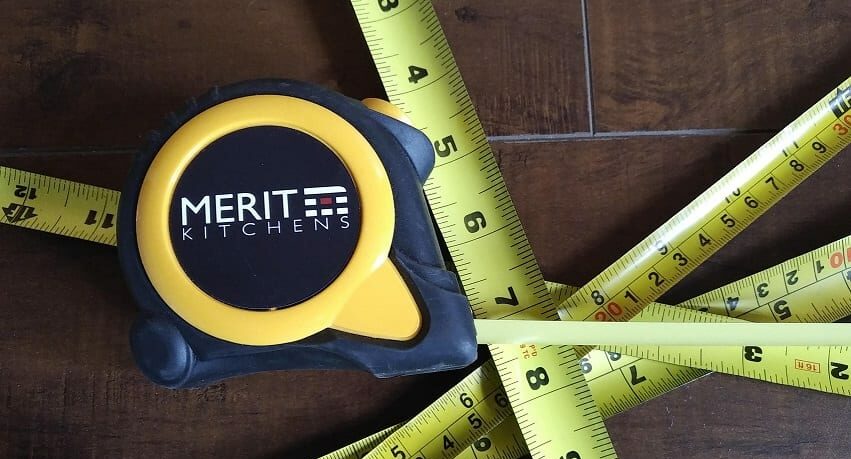 Step 4: In the final stages of installation, any molding, accessories, and decorative elements are carefully put in place.
Step 5:  Your installer now removes tools and cleans-up sawdust and debris as best as possible. You will need to do a final dusting and wipe down your new cabinetry as well to ensure it is ready to be loaded with your personal kitchen items.
The process of installing cabinetry is a science that requires practice and experience. At Merit Kitchens we work with the finest in the business to ensure your cabinets are properly installed. Contact our team at the Calgary Design Centre to learn more about the process and how Merit Kitchens can support your next kitchen remodel.